Already the twelfth edition that I walk through the majestic and crowded alley of the international fair of jewelry and watchmaking, named Baselworld. A show that, as the name suggests, is located in Basel. Baselworld has become a must for brands, suppliers, but also for the curious, enthusiasts and nowadays bloggers. We share with our community, wear 25 different watches in 5 minutes, take pictures with champagne glasses in our hands, we're loving it! Except that behind the little bubbles, the glitter and duck-faced selfies, we shall not forget those who have worked for months to make this fair an exceptional show. Craftsmen, jewelers, watchmakers, designers, decorators… This year I wanted you to embark with me to Basel. Everything there is made to make us want to give in. And to stand out, everything is allowed, starting with packaging. It's got to be impressive! So what happens behind the gigantic bright facades? Let me open the gates of this centenary salon that has made many generations dream.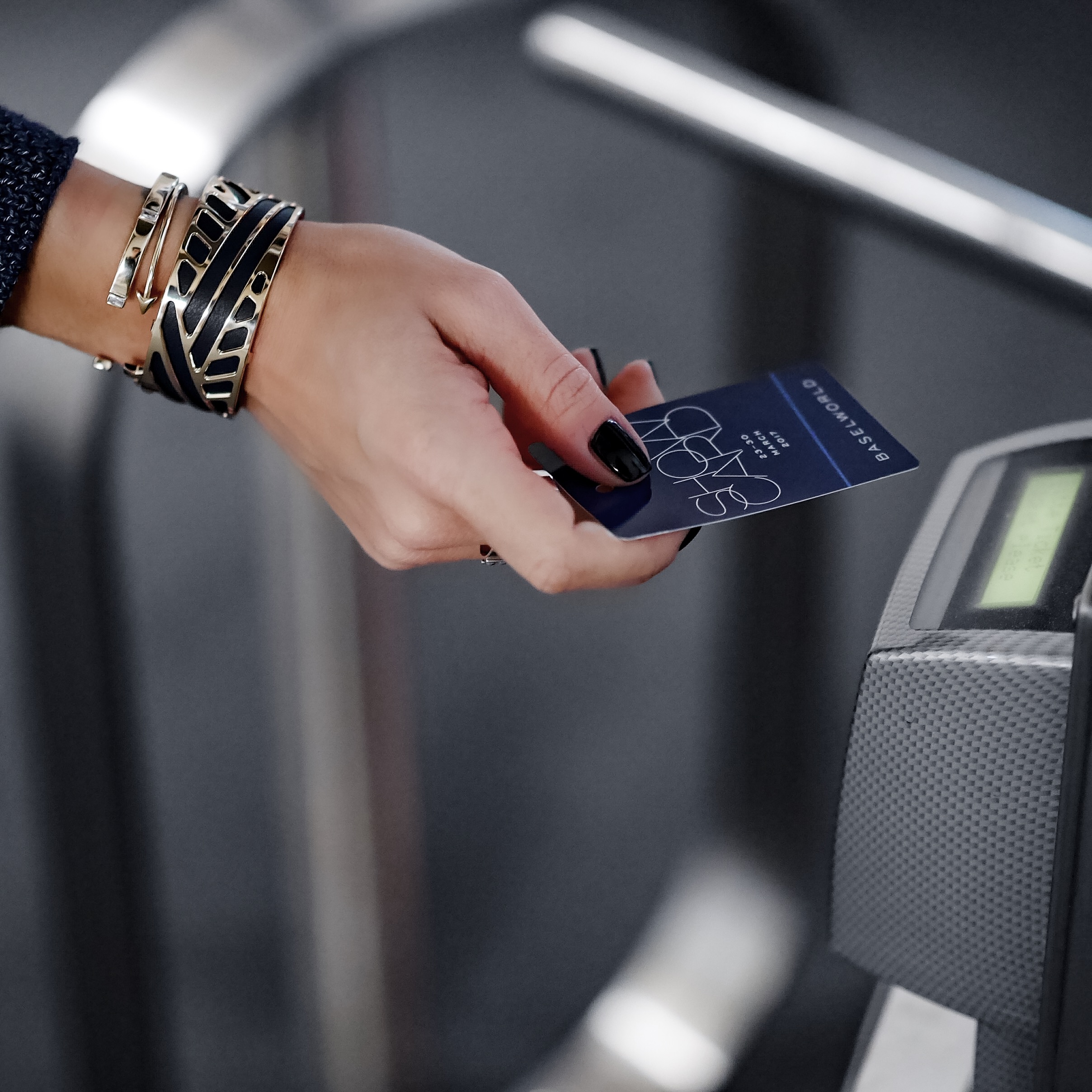 It's 9am when we arrive in Basel. 9:30am when we pass the first revolving door and 10am when we finally arrive at our first appointment. Because before getting away, you have to sweat and this all while wearing heels, please! No because if you thought you'd get a parking spot right next to the entrance, you better keep on moving. Baselworld is a marathon above all and many give up before reaching the second floor. Once you are passed the entrance, we're faced with a real treasure hunt: 1. Find the said stand. For those who don't know, Baselworld is no less than 5 pavilions, 12 floors, 25 escalators (well I believe) and 1'300 exhibitors. The bravest, or unconscious ones, will dare the challenge to defy the 141'000 m2 in heels. That's what I did (and my toes are still crying). But fact is that my excellent sense of direction and myself finally arrive at the first booth: Les Georgettes.
For those who have been following me for some time now, it is impossible to miss the fun cuff bracelets that I have been wearing on my wrist over the past half year. This innovative French brand presents six new collections per year, no less. The principle is always the same: a customizable jewel with a reversible leather band. After making a hit with their bracelets, Les Georgettes arrive in force with a collection of rings, new acid colors, cuffs for kids (that I need urgently) and two new sizes to combine or not with the existing models. With complete and continuously larger collection, they make us faithful thanks to their prices that couldn't be more affordable. For the continuation of the novelties, I can't wait to tell you more throughout this year. What I can already tell you is that things will get intense.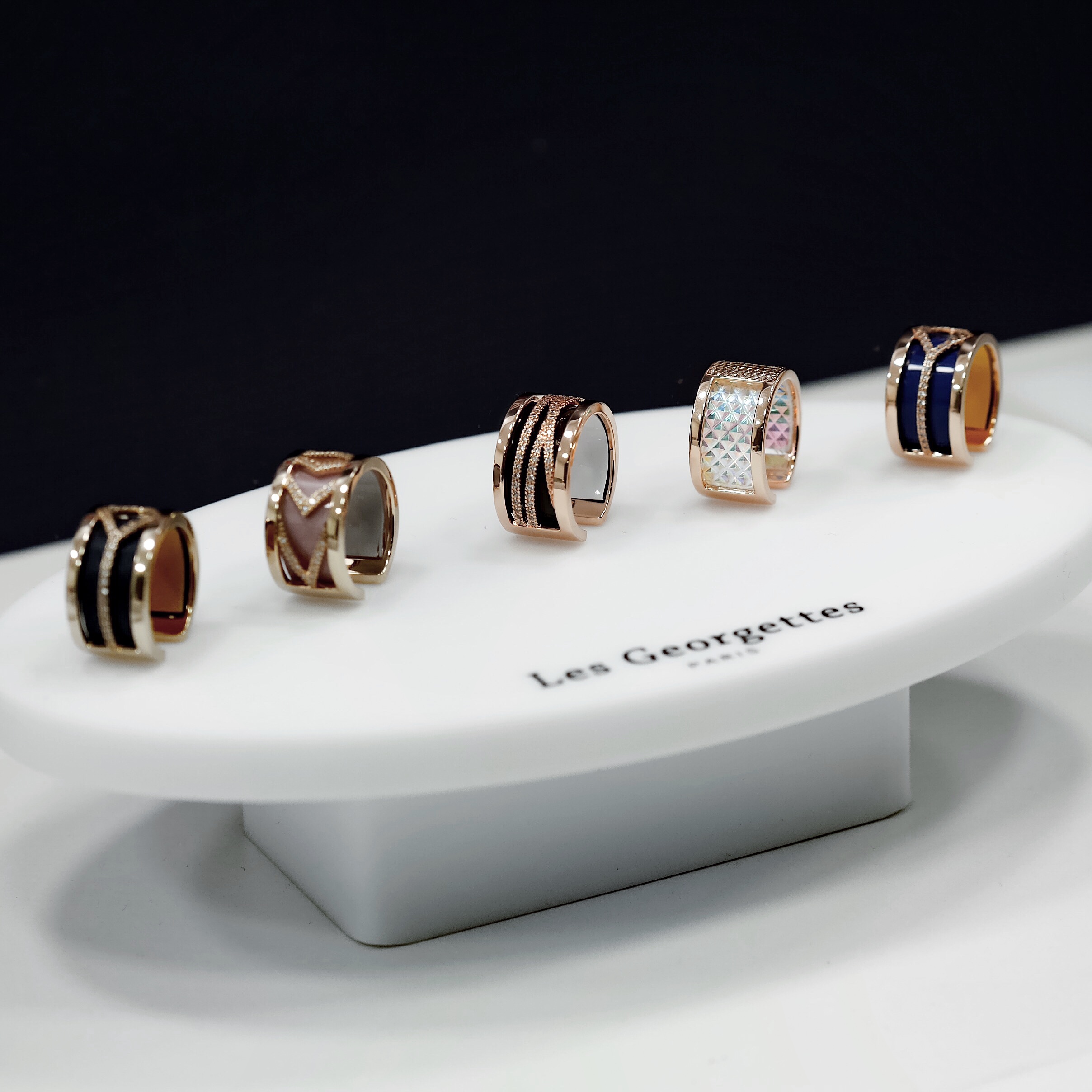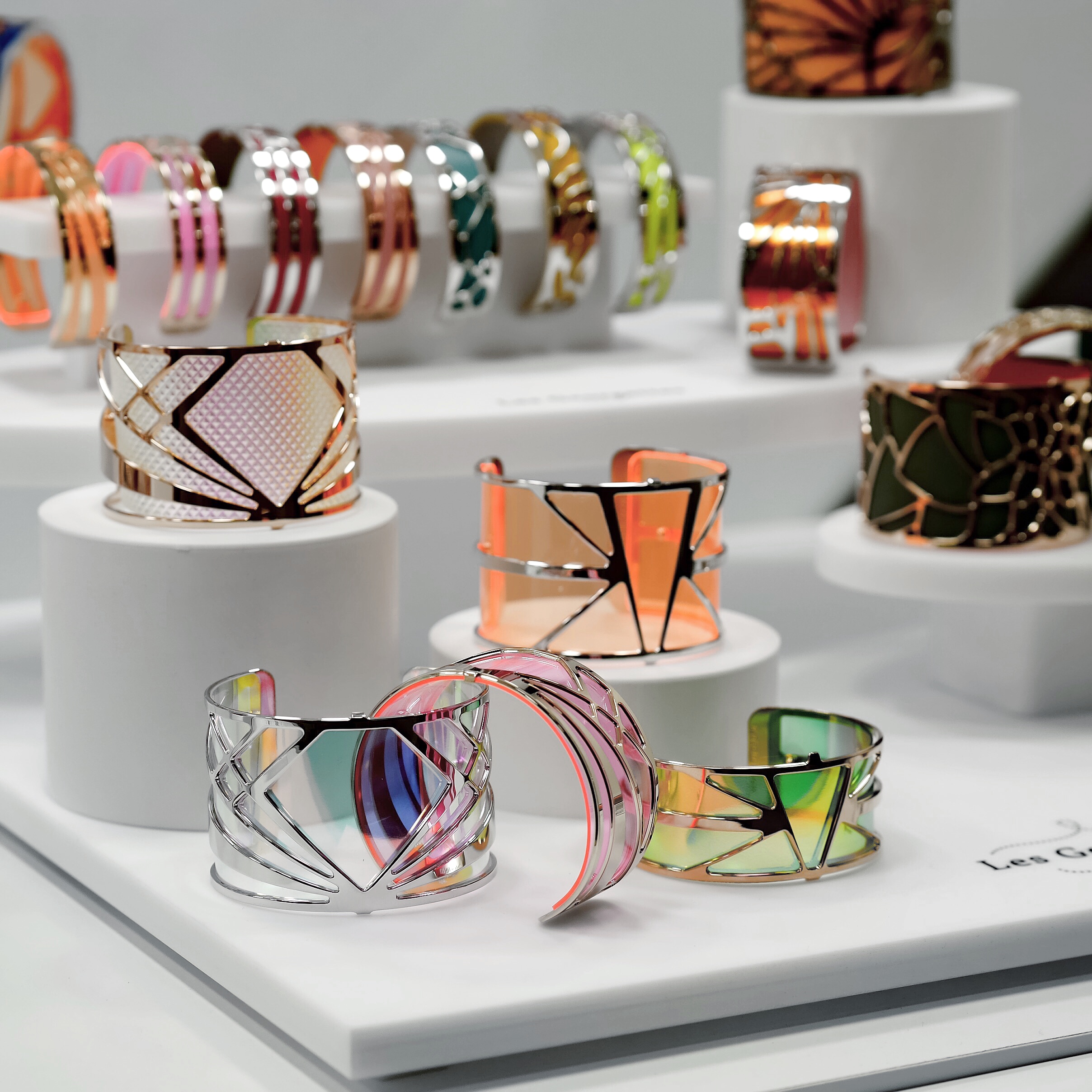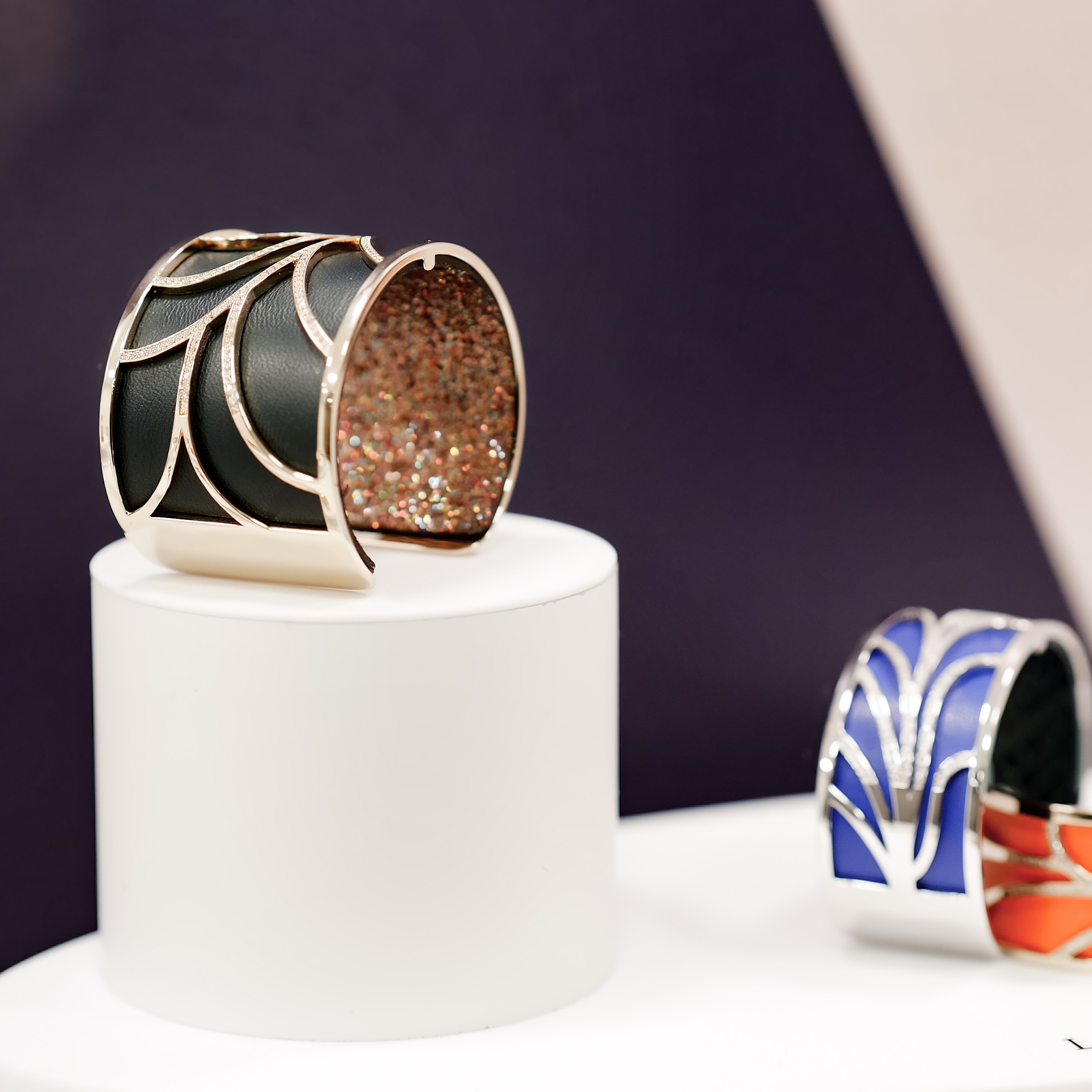 At the end of this interview, I have less than three minutes to get to my next appointment with Guillaume Laidet, founder of the watch brand William L. Three strides and two sidesteps later, we are received with welcomed warmly by Guillaume for a highlight of his range.
This young entrepreneur released his first piece in February 2016. He who worked for renowned watch brands, had the audacity to launch his own timepiece in a somewhat dubious watchmaking conjuncture. Inheritor in love with a watch from his grandfather, he had the urge to bring back vintage back to life with his first piece « Vintage Style Small Chronograph » inspired by the famous watch received from his gramps. Combining delicate design and softness to give a timeless and almost unisex look to a resolutely vintage chrono that conquered more than 40 countries in just one year! A success story that is only beginning.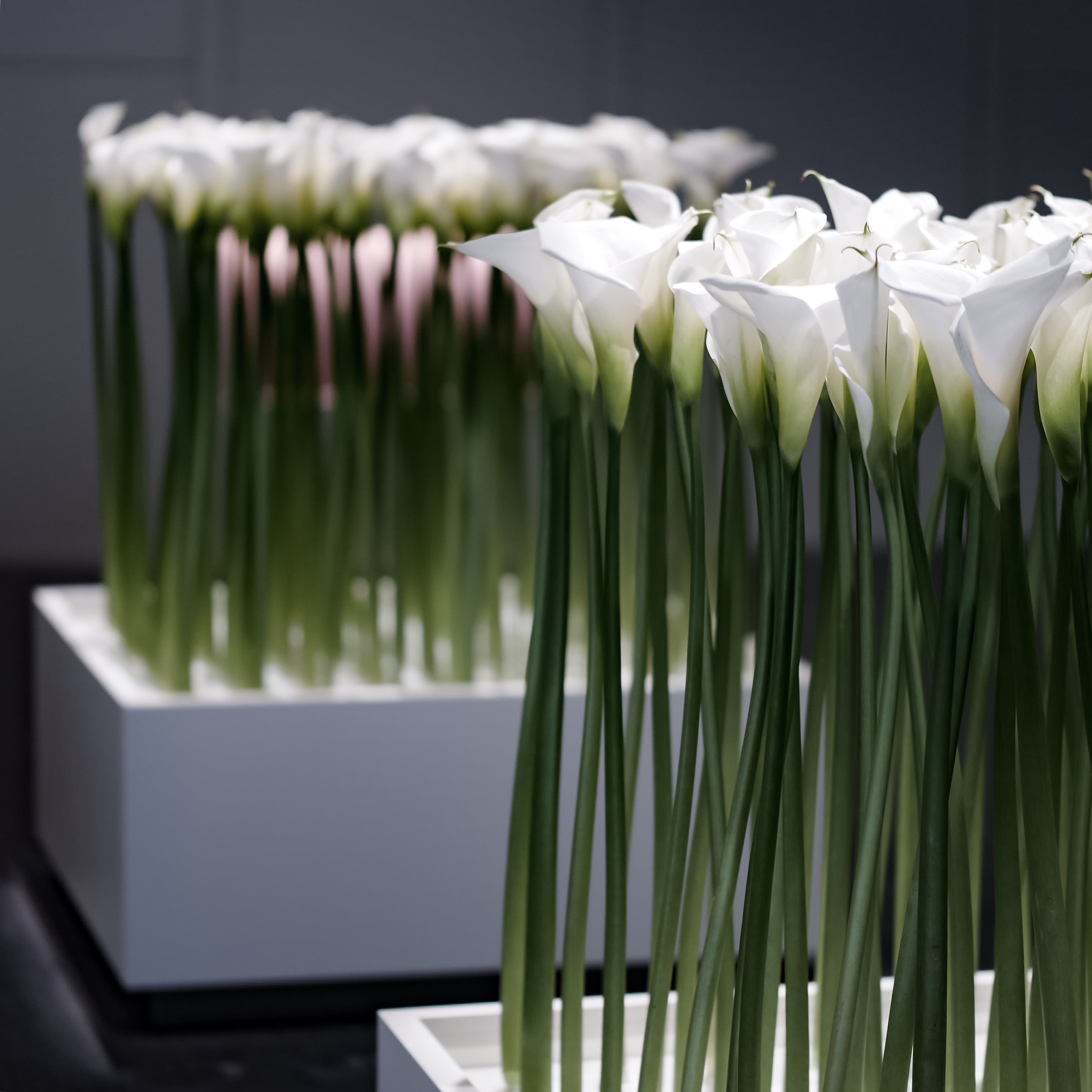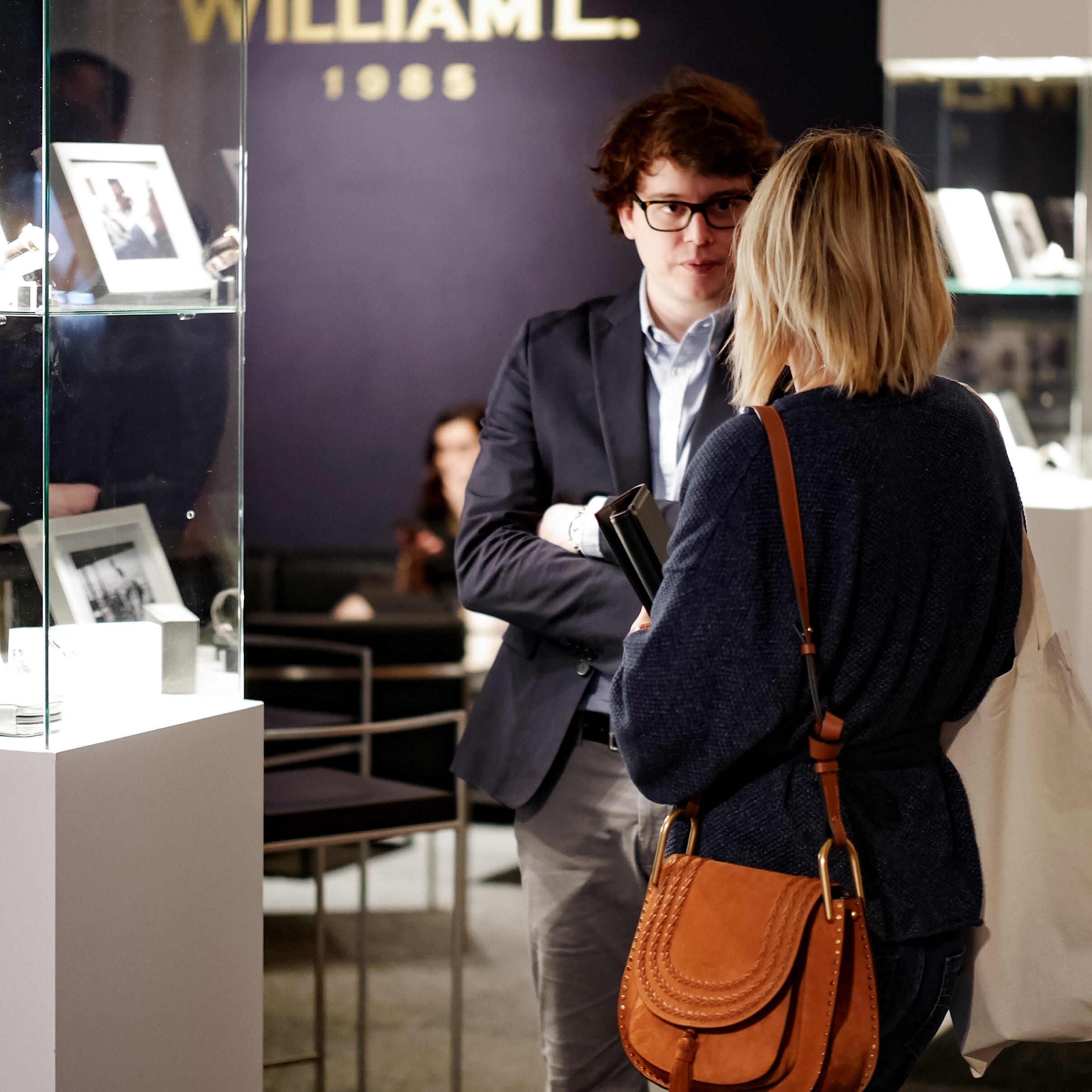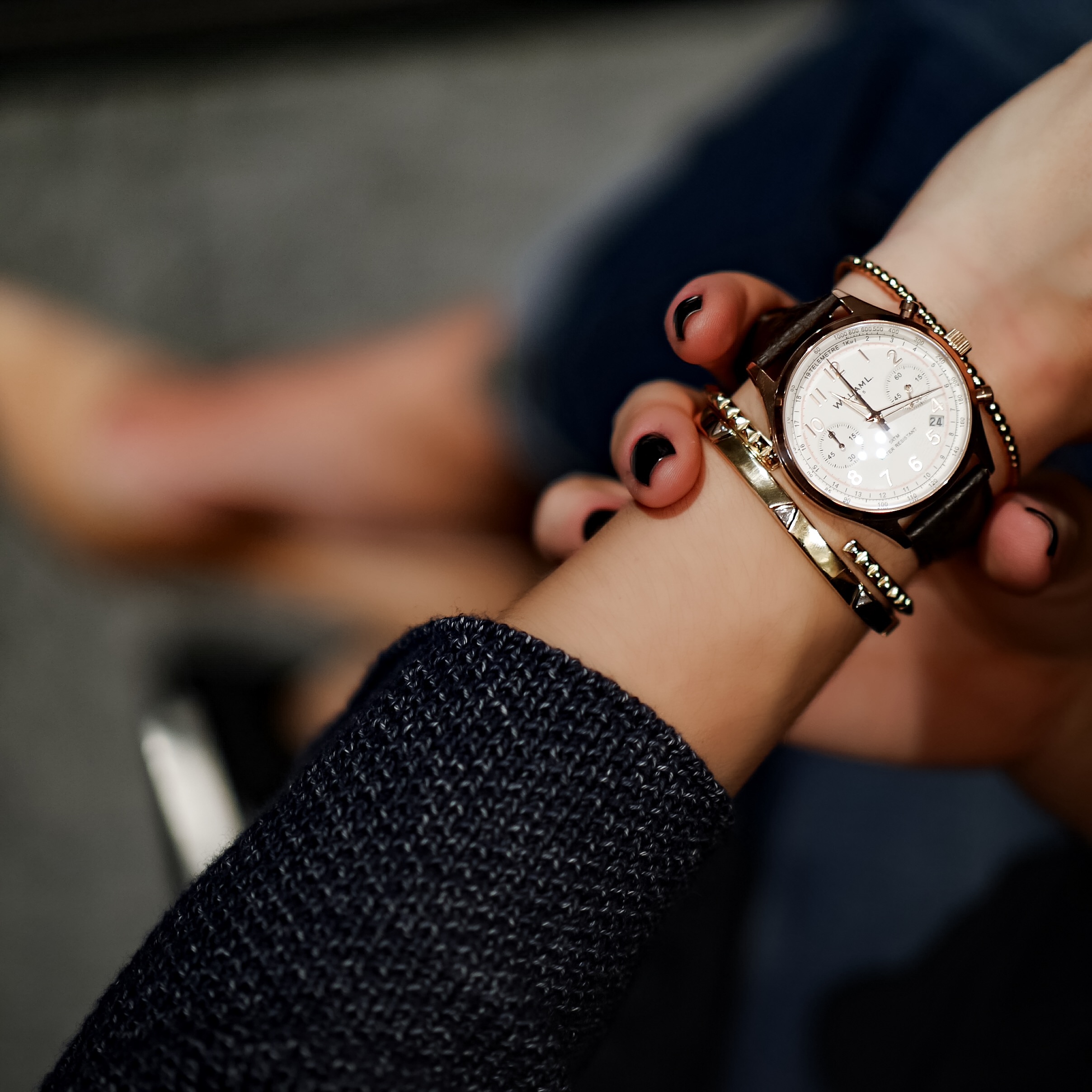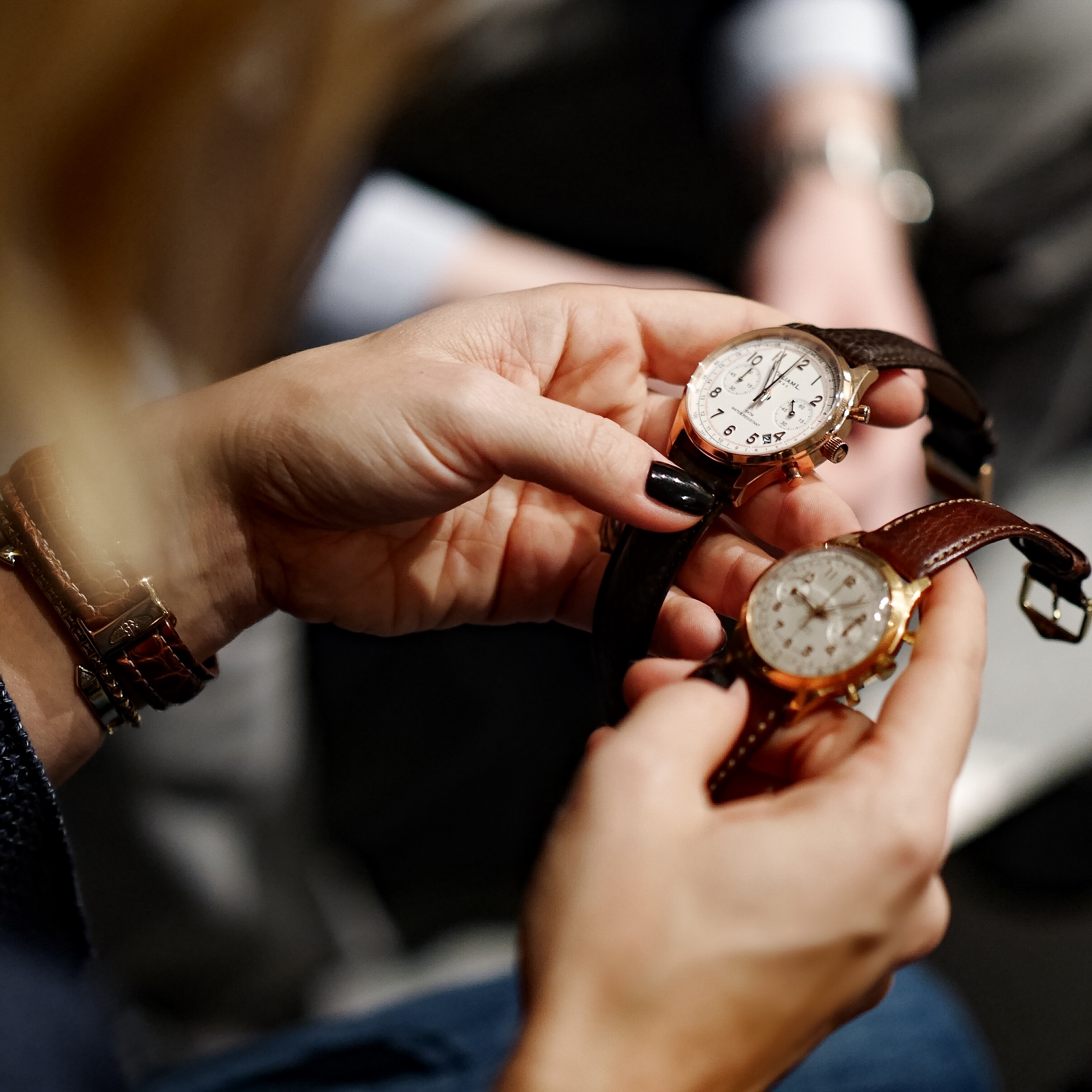 Two exciting appointments, that made my mouth water. There are several restaurants at the fair but the closest one will do, especially if it has comfy chairs and a long tablecloth to hide my poor feet that only want to get out of my pumps (although they are very cozy as all the high heels in my closet). After a coffee there we are again for the second part of the day for a meeting with Alexanda Lott, creator of the brand Alex Benlo. Her booth is located in the workshops, a wing of the exhibition that was added to the Hall 1 this year. Entrepreneurial and passionate she presents us her philosophy. Every piece is mounted around a stone dial. This is the starting point of each of her creations. Once the virtues of the stones are known, she develops and creates the watch in a very subtle way. The results are efficient, chic and very attractive pieces, especially the pink quartz model that touched my heart and my naughty sin of envy.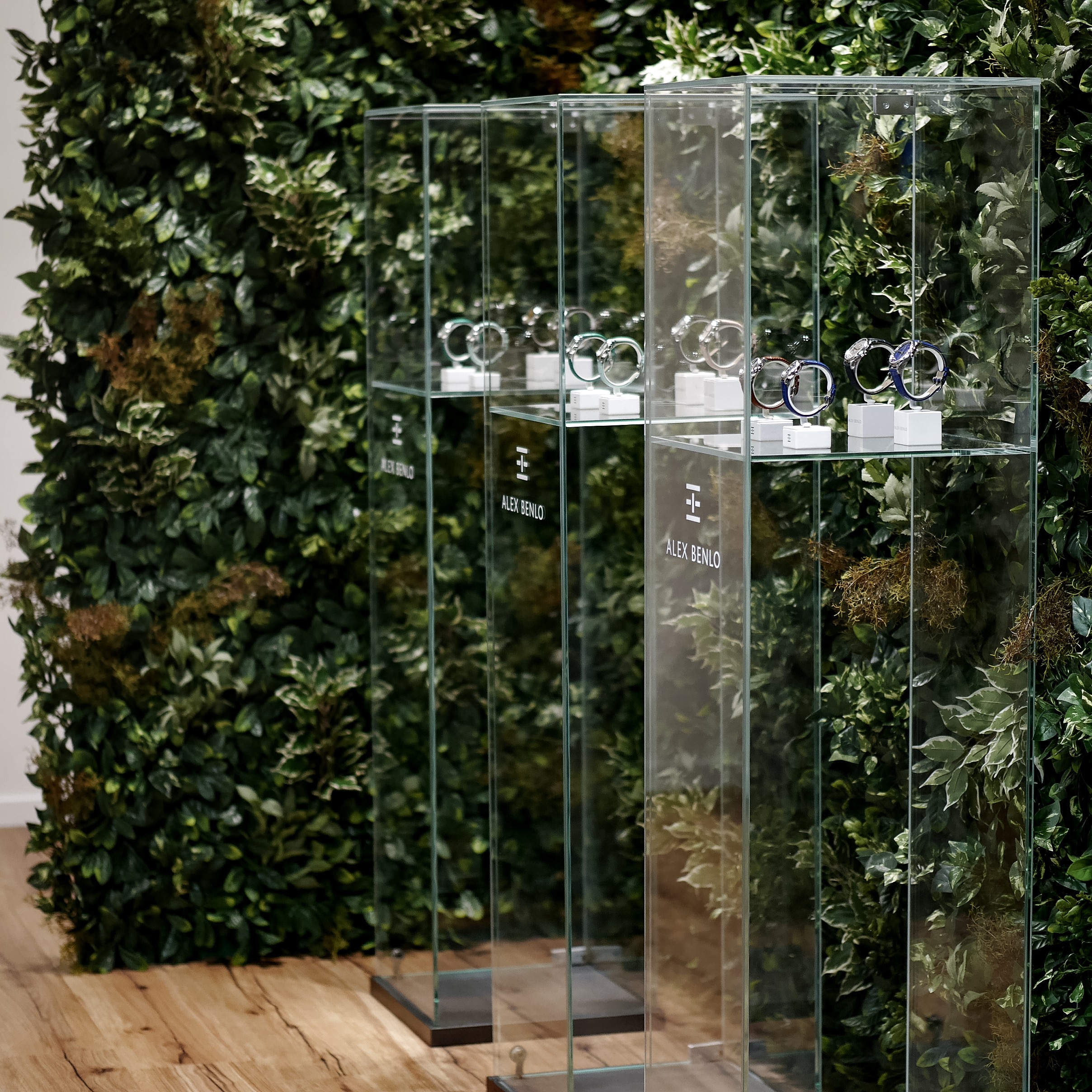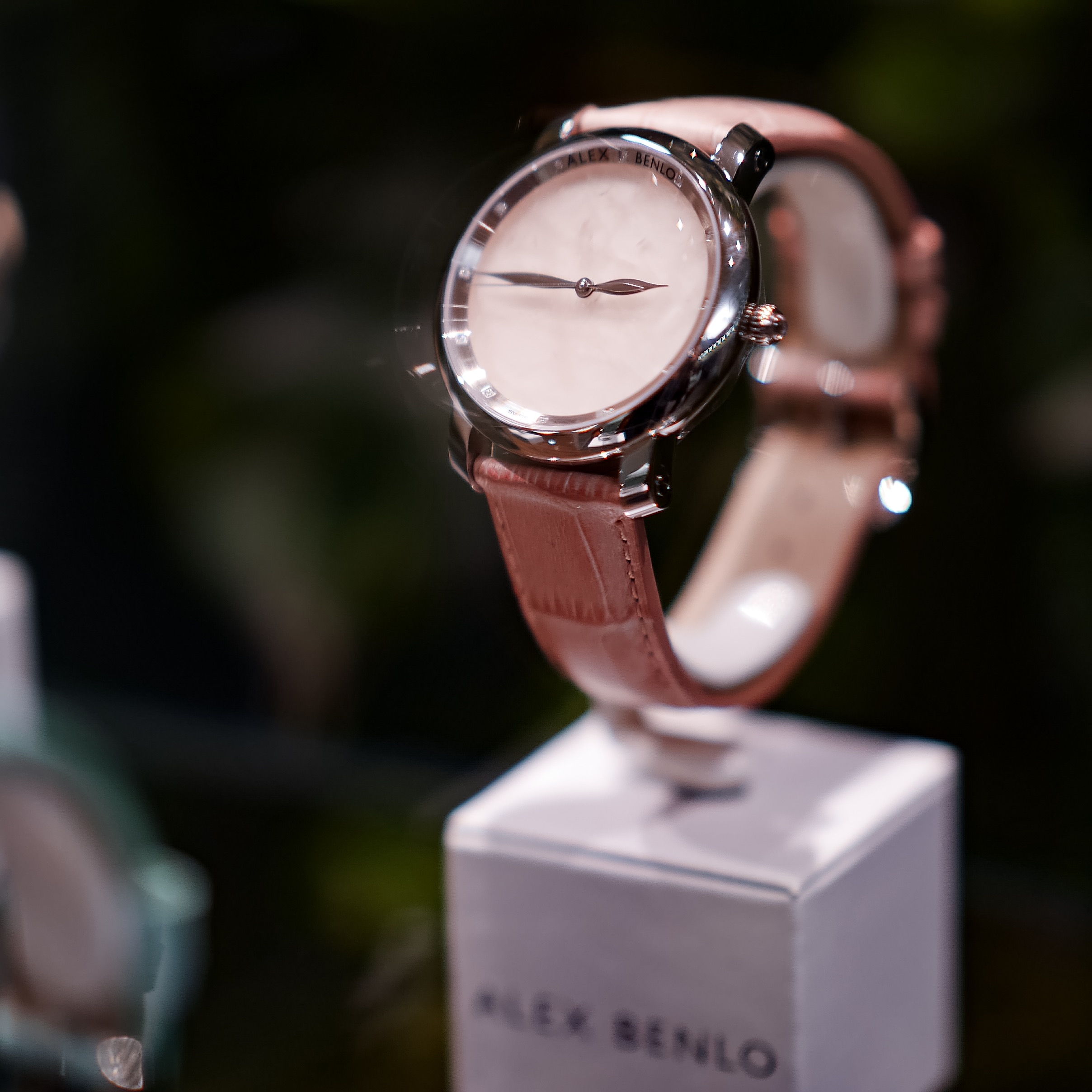 A few steps separate us from a presentation at the master watchmaker Graham where I get a crush on a piece in their showcases right after entering the booth. The new pieces "Chronofighter Vintage Nose Art" on which they delicately painted Pin-Ups reminding those drawn on the noses of military aircrafts during World War II.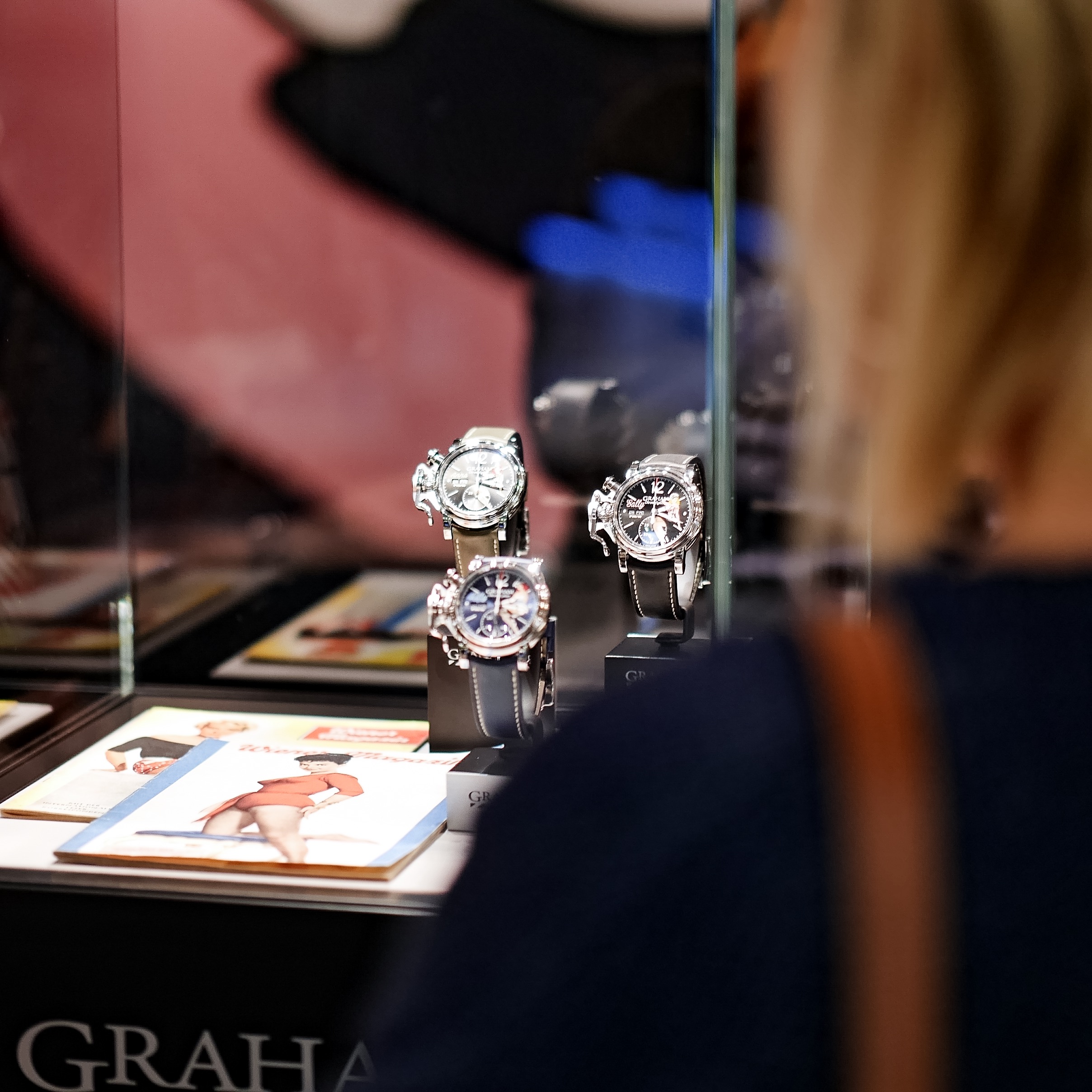 Thanks Wikipedia, I have always struggled in history. But this proves that watchmaking is not only a matter of minutes! It's far more than that. But lets get back to business; if I intend to get to the end of this article I have to refocus.
The brand Reservoir receives us on their booth for their first year as exhibitors and I got to say that for a first time, they did not do things by half. The watch brand is inspired by automotive and aeronautics. Pure dials for his innovative pieces where the time is read in the lower part and the minutes are inscribed at 240 degrees on the top of the dial. A breathtaking feature, inspired from the dials of yesteryear. Watch out for this beautiful discovery, as it is obvious that we will talk about it a lot in the near future.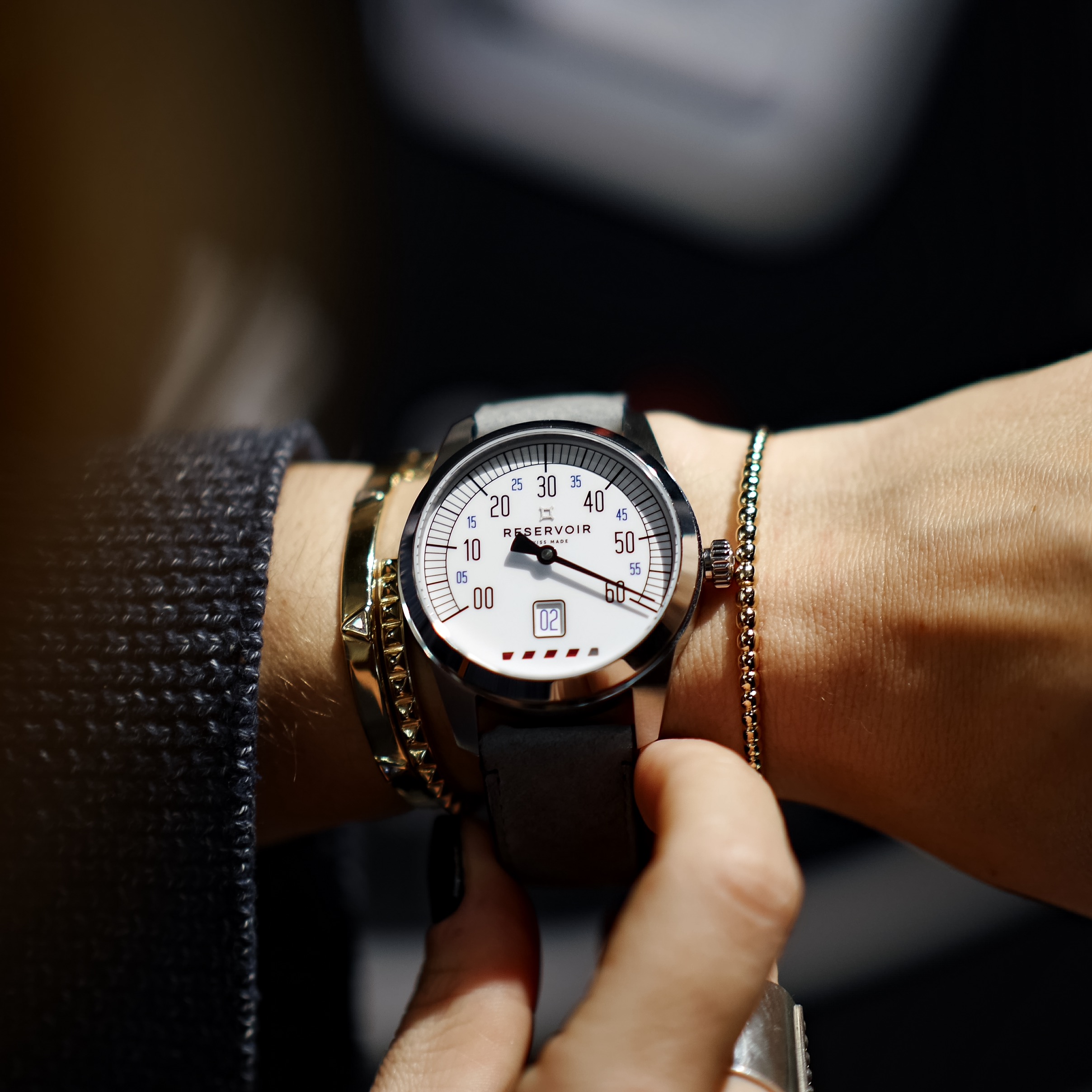 We finish our day with a coffee at Maurice Lacroix. Installed in the lounge, it's the opportunity to take a break before our last appointment. David Sanchez came on time, shoot! I was particularly well installed on this fluffy couch while tasting a few mini-pastries… Well, I'm not (only) here for that. David presents us his novelties including the one he was wearing on his wrist: Aikon – the brand's emblematic model revisited in 2016. A strong piece, which perfectly defines the essential points of the Maison from Zurich: know-how, innovation, design and perceived value. The movement, which is entirely assembled in their manufacture of St-Imier, distinguishes the watch that is compared to the VW of watchmaking. The "watch of the people" has nothing left to prove, but continues to offer us a declination to die for, like the female model that stole my heart.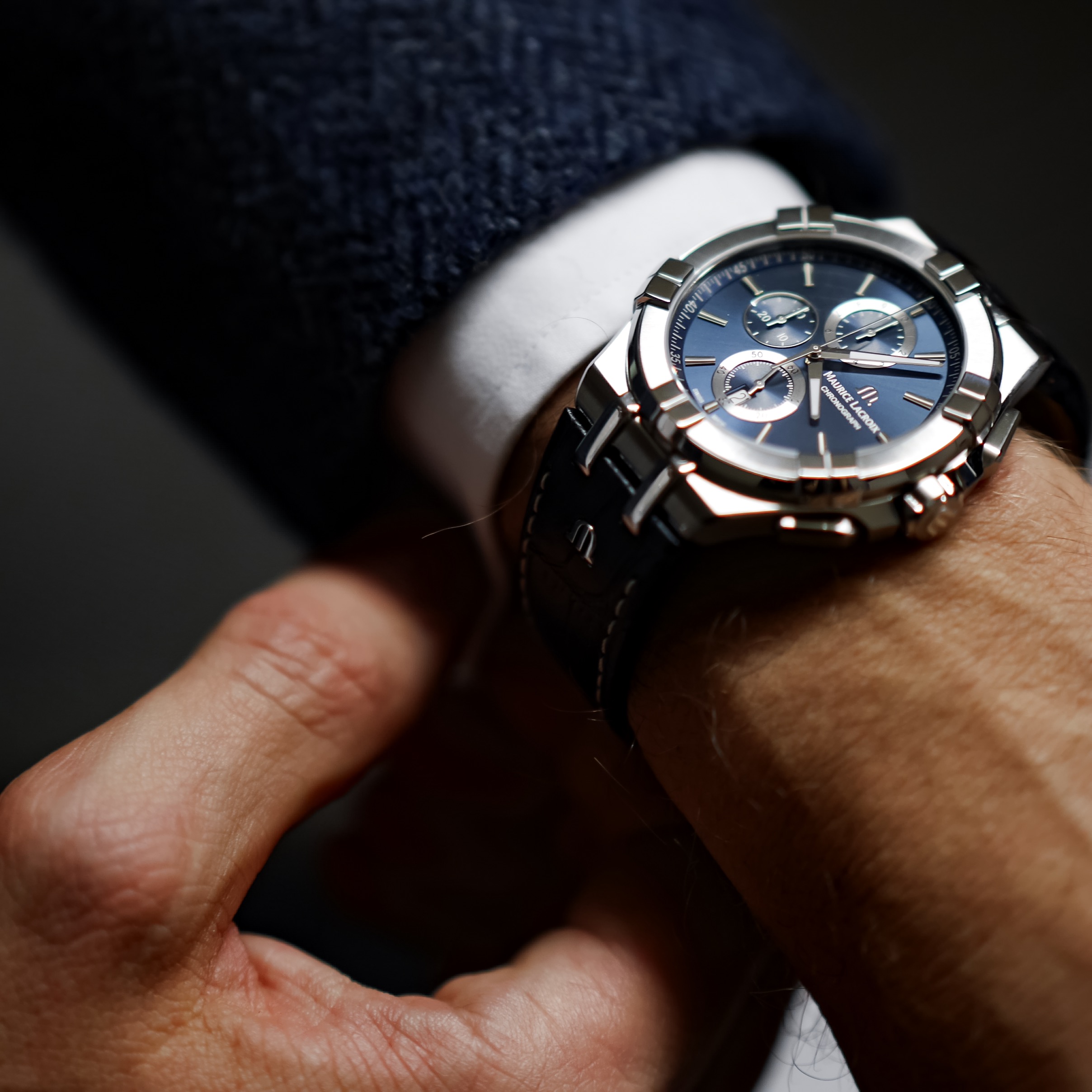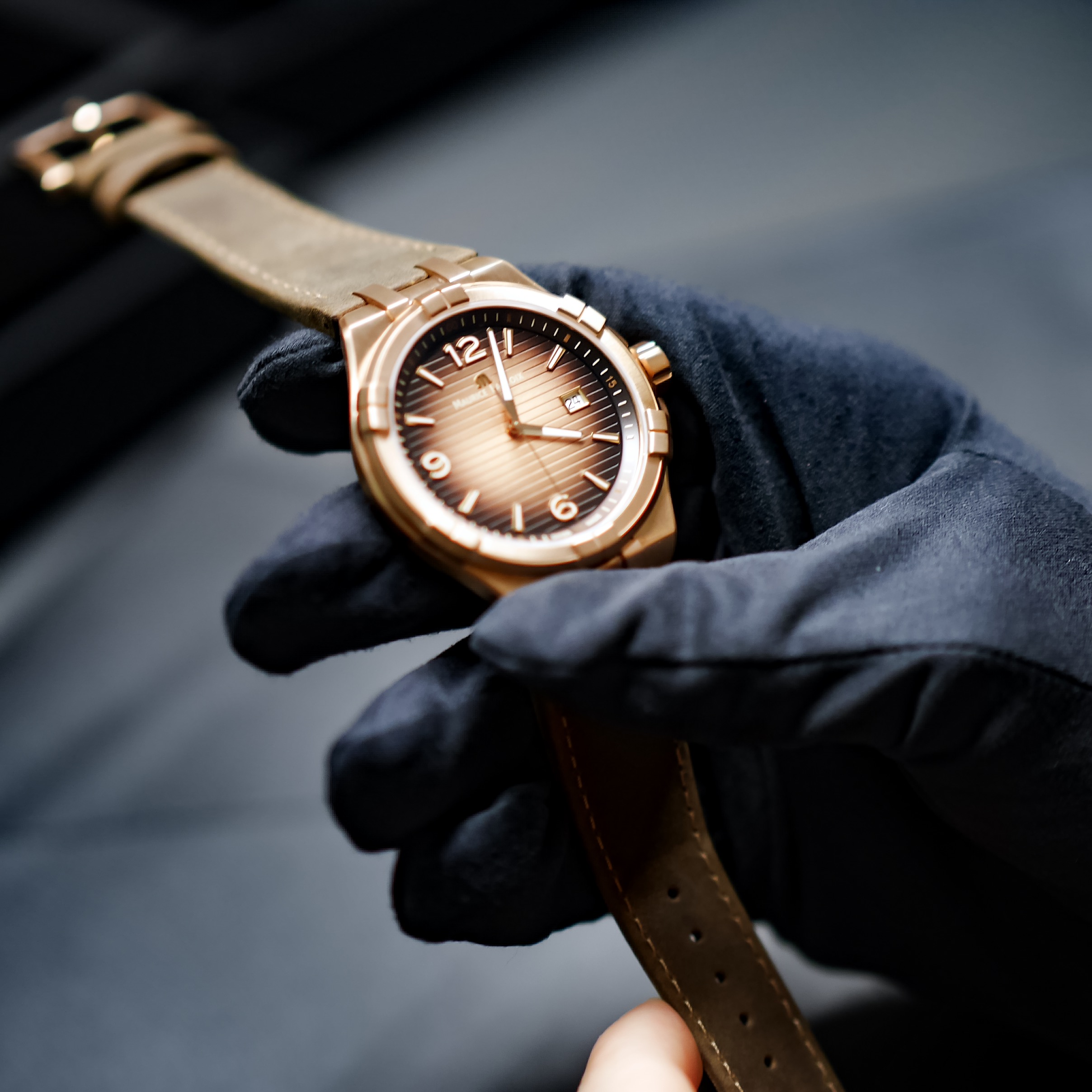 With its double bracelet and its diamonds on every hour, we can say, Aikon's got class .
The exhibition of 2017 ended Thursday Mach 30th and has got many of us dreaming and patiently waiting for next year. Till now I cannot explain how I got to my vehicle. But what's for sure: next year, ballerinas it will be. Amen.